Create Your Own Haven In Paradise With Professional Landscaping in Ft Worth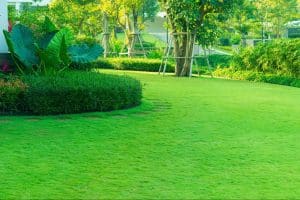 Our team of professionals here at Clearfork Lawn Care in Fort Worth, TX understand how much homeowners in the Lone Star State enjoy spending time outdoors. When not working or running errands, our lawns become a place of respite for spending time soaking up the sun, taking in sunsets or entertaining friends and family. From installing pergolas to creating stunning hardscapes, let's explore how we can revamp your existing landscaping to create the perfect places to relax while adding curb appeal to the home.
Pergola Additions Add Beauty and Value
If you really want to expand your creativity and have a place to relax without being in the direct sun, a customer pergola addition could be the perfect solution. We can help you design your structure, build it and install it to your specifications. This is a low maintenance option and can be topped with plants to add shade and establish the mood of your outdoor oasis.
Perhaps you just want to add a touch of charm to a sidewalk or entryway with an arched arbor, which we can customize with a trellis of your choice in almost any style or shape to complement your lawn. These are perfect for vining plants and even growing certain vegetables like tomatoes or peppers.
Landscape Lighting Installations
In the Ft. Worth area, we love our starry skies, but they often aren't enough to light up our yards after dark. We can make it possible to enjoy your landscaping at any time of the night with a top-tier lighting system. You let us know where you spend your time, and we'll light it up!
A porch light or spotlight in the backyard might not be adequate, but our team of skilled lighting pros can create a unique ambiance that is as functional as it is beautiful. We can illuminate your landscaping with colorful, high-tech LEDs that will put on a light show that you pre-program. However, we can also stay traditional with a combination of standard white lights above with ground stakes to showcase walkways.
Water Feature Construction & Installation
Beautiful lawns are often enhanced by a mood feature such as a water fountain or slowly dripping sculptural piece. If you're a person who seeks peace and wonder, a water feature installation can be a fine option. Rather than just installing a stagnant statue, why not create an enchanting piece that encompasses the ambiance you want?
We can create fountains, waterfalls, ponds, brooks and water walls in the area, and can work to incorporate them into your pool if you like. Fountains feature small injections of moving water, while waterfalls boast the sounds that soothe so many. Waterfalls are spaces of compelling movement, while ponds establish a place of serenity and quietude.
Here at Clearfork Lawn Care, we offer a vast variety of water features available for your home or business in the Fort Worth region. We offer customized options, designs, and installation when you are ready, so your water features will be unique to your property and satisfy those inner needs.
Artificial Grass Installation Near Ft. Worth, TX
The heat and stretches of dry summers can make our lawns here in North Central Texas transform from a green haven to a desert-looking environment in just a few weeks. This is why many residential and commercial clients are leaning towards installing artificial turf rather than traditional lawns.
The benefits definitely outweigh the negatives concerning artificial grass, including:
Eliminating pooling and puddling.
No grass stains on clothing.
Children and pets have a softer landing.
Shade and sun are no longer a factor in the health of the lawn.
No need for mowing or using fertilizers that can be harmful.
Drought resistance during dry spells.
Cleans easily with a hose.
Soil and Drainage Solutions
Do you want to collect rain to use for additional purposes, or do you just want the rainwater to get off your property? Clearfork Lawn Care has the best drainage solutions available, so you don't have an unwanted marsh in your lawn. From French drains and curtain drains to redirect water flow to tenches and dry wells, our pros have a solution for drainage issues on your property.
Connect With Us! We Are the Top Landscape Designers Near Fort Worth, TX
Located in the Ft. Worth area, Clearfork Lawn Care is a reputable choice for landscape and hardscape design in and around Fort Worth, TX. Our team works closely with every customer to ensure that their specific needs and desires are met. We want you to have a picture-perfect landscape that reflects your personal taste and that of those who join you in your space. Contact us today to let us know your specific needs, budget and timeframe, so we can make magic happen together!