Landscape Design Services in Fort Worth & Surrounding Cities
Landscape Design & Construction in Tarrant County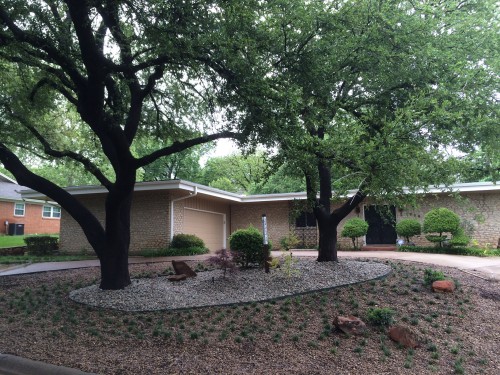 Located in Fort Worth, Clearfork Lawn Care is your local specialist in landscape design and landscape construction. We offer a full range of services that provide everything you need to transform your lawn into the haven you have always wanted. We handle sod, grass, maintenance, trees, flowers, patios, water features, and so much more.
No matter what, your lawn needs to thrive and be a space you can love and enjoy, and we can handle it all. As you browse our specialized services, you will see that Clearfork Lawn Care is the only resource you need to have the best possible yard and get the most from the outdoor spaces of your home. Contact us today for award-winning design work, high-quality construction, and world-class customer service.
Plant and Grass Work
Plant and grass work is what brings color and beauty to your yard. We can lay and cultivate a plush, green lawn, but we can do much more than that. We offer artificial grass solutions, tree and bush planting and tending, and landscape design services that help you craft the things you want into a working lawn with good flow.
We also provide flower services. We can add flowers where they are needed, and we will even provide pruning services to keep them healthy and looking beautiful. When you want a lawn that truly shines, plant and grass work services will get you just that.
Patio Construction
While plant and grass work make a lawn beautiful, a properly crafted patio adds function and elegance to your Fort Worth property. A good patio provides a usable space where people can congregate, and when a patio is properly designed, it is a feast for the eyes.
We can design and build you a free-standing patio out of stone or pavers. It will become a centerpiece of your yard and show off your exquisite taste. A patio is what will provide you with the most enjoyment of your lawn, and it's as low maintenance as a feature can be.
Walkway Construction
Walkways are powerful tools for landscape designers. While a walkway does provide an essential function — guiding people to stay off the grass — it can be utilized to bring powerful, eye-directing design elements into the lawn.
Clearfork Lawn Care can handcraft a walkway in your lawn out of stone or pavers. We will carefully lay the stonework, which allows us to follow winding paths or provide interesting designs with the pavers. The walkway will tie everything together and complete the aesthetic of your lawn.
Arbors and Pergolas
If you really want your yard to stand as a unique haven in the Dallas/Fort Worth area, arbors and pergolas can provide you with the extra creativity and beauty necessary to stand out from other homes. You can add natural wood colors and accents to the landscaping, or you can focus on growing vines and adding organic colors into the mix.
There are so many interesting ways to use arbors and pergolas. Clearfork Lawn Care can help you discover the best use for your lawn, and we can build custom arbors and pergolas from scratch. This is yet another way that your outdoor space can be special to you and the friends and family who visit.
Water Features
Water features are the proverbial icing on the cake. They take an otherwise pretty lawn and transform it into a landscaping masterpiece. They add color and shapes that cannot be provided by any other lawn features. They also add an entirely new dimension of pleasure to your lawn: sound.
A good water feature takes a functioning lawn and makes it an escape — a place where people can relax in peace and take in the beauty of the world. Whether you want a fountain, pond, brook, or waterfall, you can have a water feature that makes sense in your yard and provides a sense of wonder, relaxation, or whatever else you want to capture.
Outdoor Lighting
You invest so much time and energy into your lawn, so it would be a shame for the space to be covered in shadows every night. Outdoor lighting allows you to fully enjoy your lawn at night, and with good design, it creates an additional magical place for your home. A well-lit lawn will feel completely different at night, doubling the pleasure you can derive from having the best outdoor spaces.
Outdoor lighting is also an important safety feature. It helps to prevent tripping and falling, and it discourages unsavory characters from feeling they can hide in the shadows while they are up to no good. Clearfork Lawn Care offers aesthetic lighting that is still functional in these respects.
Drainage Solutions
Part of having a gorgeous and enjoyable lawn is maintenance and care. Drainage solutions are there to prevent problems that could otherwise destroy a perfect lawn. We want to ensure that you only have intended water features in your yard.
We offer a full range of drainage services. We can plan and install french drains, curtain drains, trench drains, sump pumps, and dry wells. With so many options available, there is a drain solution that will serve your yard well and provide the right look for your home.
Contact Us Today for Landscape Design Services
If you're interested in high-quality landscape design services for your Dallas/Fort Worth property, Clearfork Lawn Care is ready to get started. Contact us today, and you will be well on your way to having a wonderful lawn that fills you with pride every time you step outside or look out the window.
Landscape Projects