Lawn Care & Landscape Maintenance in Fort Worth
Landscape Maintenance Services in Fort Worth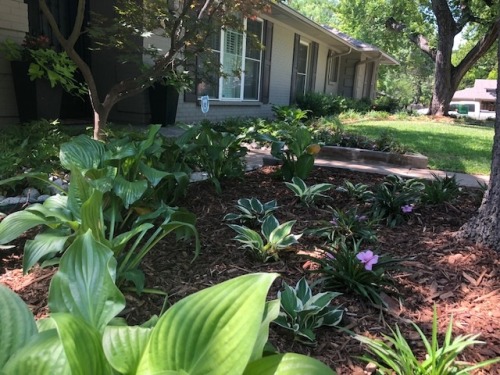 A little maintenance can go a long way for a great landscape. We provide complete maintenance, mowing, trimming, fertilization, and debris removal services for the 800,000 residents of Fort Worth. Whether you're trying to grow a great lawn or maintain a beautiful flower garden, we can help.
Don't wait until your lawn is starting to brown and your trees are starting to get overgrown. Landscape maintenance services don't just ensure a lovely, healthy yard — they also reduce the amount of time and energy it takes to maintain it. Our landscape maintenance services will ensure that your lawn and garden look fantastic all year round, whether you just want us to come in to get it under control or service it regularly. 
When it comes to a beautiful landscape, there can be more to maintain than there might seem, especially in areas that experience severe weather like Fort Worth. Gardens need to be weeded and mulched, grass needs to be periodically cut, and trees need to be cut back and shaped. If it's done regularly, it isn't much work at all. But if it's done only once a year or every few years, it can be quite a big job. A regular landscape service can help you keep everything well-maintained and looking great.
Mowing Services
Mowing your grass frequently helps to keep it healthy. If you mow your grass infrequently, too much of it has to be cut at once. That can send it into shock and prevent it from getting the nutrition that it needs. But not everyone has the time or energy to keep their lawn freshly mowed.
Our mowing services mean that there'll be one fewer thing on your mind. You'll come home to a great lawn every day without having to put in the work. And if your grass isn't doing well, we can help you reseed and find grass types that perform better in the Fort Worth area.
Tree and Shrub Trimming
Trees and shrubs need to be trimmed back for appearances, their own health, and safety. If you have overgrown trees, it's possible that they could eventually cause damage to your home or neighboring houses. If you have overgrown shrubs, they could be growing into your foundation or attracting pests. We can come in and trim your trees and shrubs to your specifications so they once again look fantastic.
Fertilization, Mulch Installation, and Weed Control
Fertilization, mulch, and weed control are ways to ensure that your landscaping remains healthy. A healthier landscape needs less maintenance and looks even better. With fertilization, your plants and lawn will grow greener and look better, while mulch will ensure that you get the most out of your watering. Weed control will further keep your lawn and garden looking well maintained without a lot of energy on your part.
Leaf and Debris Removal
Every year, leaves and debris start falling. It can be difficult for anyone to keep up, but it has to be done.
When leaves and debris are left in your yard, it can kill the grass and other plants. It can build up in areas around your home, inviting pests and rot. It can also make your soil less balanced by introducing a lot of organic matter to it at once.
If you aren't composting your leaves and debris, you probably need to get them removed. But you don't need to do it on your own. We can help you clean up your yard so it looks fantastic all the time — and so that you aren't the resident dropping leaves all over the neighboring yards.
Regular Irrigation Audits
Irrigation is incredibly important for creating a thriving ecosystem within your yard. An irrigation audit won't just make sure that your plants and lawn are getting enough water. It will also make sure there aren't serious leaks or other issues.
A sprinkler system leak can be a serious problem, as it can cause damage to your foundation. You'll want to know that your irrigation system is working as it should be, even if it just needs a minor adjustment to make sure that all the plants are getting the amount of water they need.
With the right irrigation, even the most complex and attractive gardens and yards can be low maintenance and keep you worry-free. You just need to make sure that everything is getting enough water and that not too much water is being wasted.
Drainage Audits
At Clearfork Lawn Care, we conduct drainage audits throughout the Fort Worth area. Like irrigation, drainage is important. If water isn't draining, it can cause issues with your home. It can also cause trees, plants, and grass to die. While plants do well with the right amount of water, they can quickly start to die off with the wrong amount of water.
Drainage audits will ensure that everything is draining correctly and, if it isn't, fix the problem. You can get a consultation on your irrigation and drainage to make sure that everything is properly graded and sloped. If water is regularly pooling in areas of your landscaping, it's better to get the problem checked now.
Contact Us Today for Lawn Care Services
Do you need lawn or landscaping services in or around Fort Worth? The team at Clearfork Lawn Care can help. Our experts can help you design new landscaping, maintain your existing landscaping, and help you with any specific lawn or landscaping problems you might have. Contact us today to get a consultation and a quote. Find us on Google Maps