Landscape Design and Construction Services in Annetta North, TX
Top Landscape Designers Near Annetta North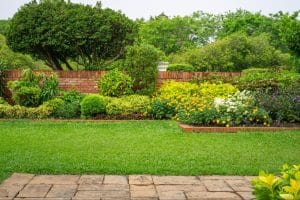 Looking for landscaping experts who are dedicated to helping you make your Annetta North property as healthy and aesthetically pleasing as possible? If so, our team at Clearfork Lawncare is at your service!
Since 2015, we've provided local residents with top-quality landscaping design, lawn maintenance, outdoor lighting, sprinkler system, and hardscaping services, and we'd be honored to serve you too. We know landscaping companies near Annetta North are plentiful, which is why we strive to set ourselves apart by prioritizing exceptional quality, people-first service.
When you're ready to discuss your landscaping, lawn care, or hardscaping needs, don't hesitate to give us a call!
Tree, Plant, and Grass Installation in Annetta North
Whether you want trees or shrubs planted or need sod or artificial grass installed on your property, we've got you covered.
Our landscaping design experts can recommend the hardiest type of live grass for your location or advise you on the best type of artificial grass for your needs. We can also help you select flowers, shrubs, and other foliage that is well suited to our local climate and that has care requirements that meet your needs.
Ultimately, our goal is to help you bring your vision for your yard to life, so if you've got ideas you'd like to design and develop, we're more than happy to help you bring them to fruition!
Expert Hardscaping for Annetta North Yards
In addition to our landscaping, lawn care, and sprinkler system services, we also specialize in hardscaping, including arbors and pergolas, water features, and outdoor lighting design and installation.
We employ some of the best hardscaping experts in the Annetta North area who are well versed in feature design, construction, and installation. Our goal is to leave you with an aesthetic and functional yard you're thrilled to spend time in. If you'd like expert help designing and implementing your vision, we'd be thrilled to help you get the job done!
Clearfork's Commitment to Excellent Customer Service
Here at Clearfork Lawncare, we're fully committed to providing our Annetta North neighbors with quality landscaping and lawn care services to help beautify the greater Fort Worth area.
As leaders in the Fort Worth-area landscape industry, we strive to always provide the most professional and satisfying experience for each client we serve. Creativity, attention to detail, integrity, and people-first service are our top priorities, and we proudly hold a long-standing A+ rating with the Better Business Bureau.
Ready to discuss your landscaping, hardscaping, or lawn care needs? Then give us a call today or contact us online with questions or to request a quote, and we'll get in touch promptly with more information!