Landscape Design & Construction Services in Arlington, TX
Top Landscape Designers Near Arlington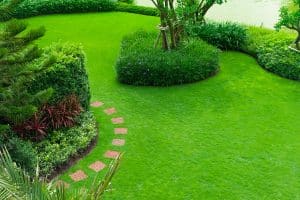 Your dream yard is a call away. From green grass and bright flowers to walkways and pergolas, there are endless designs and features that can go into a yard. At Clearfork Lawn Care, our landscape design professionals handle it all, from creating the perfect design to construction and installation. When you work with us, you're working with one company for all your landscape services, ensuring you have a consistent, exceptional experience. In the Arlington area, Clearfork Lawn Care provides a full range of services and features to personalize and craft your yard to suit your vision.
Tree, Plant & Grass Installation in Arlington
The plants make the yard. Grass is a classic choice for a reason, and Clearfork can lay the grass you choose. You can go for a low-maintenance lawn, or you can pick something that speaks to your desires.
In addition to grass, we can plant trees, bushes, flowers, vines, and any number of other plants that work for your Arlington lawn. We can help you choose plants that are as functional as they are attractive, such as lavender and lemongrass. We can also fill your yard with the plants that you love and will appreciate for many years.
Expert Hardscaping for Arlington Yards
One of the best ways to complements a great lawn is hardscaping. A pergola adds structure and new color elements. Walkways make the lawn more accessible and can instill a sense of solidarity with good stonework. Patios are a natural addition to any yard to make it easier to spend time outside.
Water features, arbors, and plenty of other adornments allow you to craft charm into your yard. You can enjoy it however you like because Clearfork Lawn Care can build and install any of the features you might want.
Clearfork's Commitment to Excellent Customer Service
Clearfork Lawn Care has designed and cared for lawns in the Arlington area for years. Our commitment to doing every job to the best of our ability is the key to our success. We want you to have a great experience, and that's why we will pair you with a proven expert for each facet of lawn care. Our head landscape designer is an A&M graduate with years of experience and a well-honed eye. He can work with our veteran groundskeeper and experienced staff to bring you captivating design with expert execution. Your lawn can be amazing. Contact Clearfork Lawn Care online or by phone at 817-705-9352 to get started.