Landscape Design & Construction Services in Haslet, TX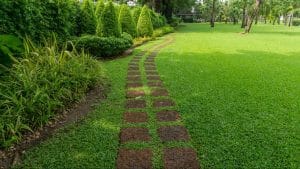 At Clearfork Lawn Care, we are proud to offer comprehensive landscape design and construction services to residents of Haslet, TX. Our talented team of landscape architects is skilled at transforming ordinary outdoor spaces into extraordinary ones, with meticulous attention to every detail. Whether you have a new property in need of a custom design or an existing landscape that could use a revamp, we deliver top-tier solutions to perfectly suit your style, budget, and functional requirements.
Top Landscape Designers Near Haslet, TX
Located in Fort Worth, Clearfork Lawn Care is a premier choice for landscape design in and around Haslet, TX. Our highly skilled designers combine artistry with practicality to create stunning, durable landscapes that stand the test of time. Using a mix of native plants and sophisticated design principles, we provide unique solutions that not only enhance your property's aesthetics but also its value. Trust us to help you achieve a picture-perfect landscape that reflects your lifestyle and personal taste.
Tree, Plant & Grass Installation in Haslet, TX
Clearfork Lawn Care brings you the best in tree, plant, and grass installation in Haslet, TX. Our experts source high-quality, locally grown plants and trees to ensure that your landscape thrives in the local climate. From choosing the right species for your soil type to proper planting and aftercare, we handle every aspect of your landscape's greenery with precision and professionalism. Allow us to create a lush, vibrant backdrop for your home or business that you can enjoy all year round.
Expert Hardscaping for Haslet Yards
Your outdoor living space deserves the expertise of Clearfork Lawn Care's hardscaping services. We provide a wide range of options for Haslet residents, from stunning stone patios and walkways to functional retaining walls and fire pits. Our team's attention to detail, superior craftsmanship, and use of high-quality materials ensure that your hardscape features not only look fantastic, but also withstand the elements for years to come. Let us sculpt your landscape to blend seamlessly with your home's architecture and the natural surroundings.
Our Commitment to Excellent Customer Service
At Clearfork Lawn Care, we strive to uphold a standard of customer service that matches the quality of our work. We believe that every step of your landscaping journey, from initial consultation to project completion and beyond, should be marked by clear communication, responsiveness, and a deep respect for your property. Serving Haslet, TX, we're committed to ensuring your satisfaction with our services. Our team takes pride in not just meeting, but exceeding customer expectations, fostering relationships built on trust, integrity, and mutual respect. Give us a call 817-705-9352 or reach out online to find out more.