Landscape Design & Construction Services in North Richland Hills, TX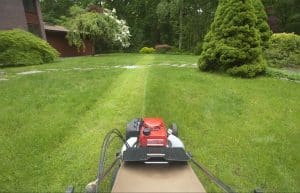 The North Richland Hills, TX area is a growing part of the Fort Worth and Dallas, TX metro area. Those that are in this area have seen dramatic growth over the past decade, which has made owning a home a great housing option and investment. Those who are property owners here will want to ensure their home looks as good as possible and is properly maintained. A part of this includes caring for your landscaping by hiring a professional landscaping service in the area.
Top Landscape Designers Near North Richland Hills, TX
If you are a property owner in this part of Texas, you will want to hire a professional to keep your landscaping looking great. A big part of this is hiring a professional for top landscaping design services. When you are looking for help with landscape design, the team with Clearfork Lawn Care can offer top design services. The team with Clearfork Lawn Care will provide various services that can help ensure you have a great landscape design that includes your personal preferences and uses plants that will thrive in the local climate.
Tree, Plant, & Grass Installation in North Richland Hills, TX
Once you have a firm landscape plan in place, Clearfork Lawn Care can provide any services that you need for installation. Clearfork Lawn Care offers various tree, plant, and grass installation services that will ensure your plant life is placed in the right spots that will allow them to get the right amount of sun so they can thrive and continue to look great.
Expert Hardscaping for North Richland Hills, TX Yards
Beyond providing you with landscaping services, Clearfork Lawn Care offers various hardscaping services that can help to bring your exterior and outdoor living space together. Clearfork Lawn Care offers various services for the design, installation, and maintenance of various exterior features including pergolas, stone walkways, patios, and water features.
Clearfork's Commitment to Excellent Customer Service
Clearfork Lawn Care has continued to be a go-to choice for property owners in the North Richland Hills area. One of the reasons that the company continues to be a top landscaping service choice is that they offer great service and customer care. The company is dedicated to providing you with top installation, maintenance, and repair.
If you are looking to improve your home's appearance and curb appeal, you should call 817-705-9352 Clearfork Lawn Care today or visit our website to learn more about their services and schedule an in-home consultation to start the process of developing your landscaping plan.