Landscape Design & Construction Services in Southlake, TX
Top Landscape Designers Near Southlake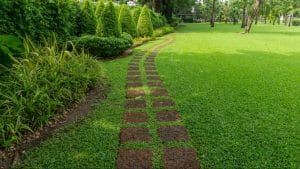 Ready to design and create the beautifully landscaped lawn you've always wanted? Our expert team at Clearfork Lawncare would love to help you do it! We specialize in landscaping design, turf installation, foliage installation and pruning, full-service lawn maintenance, outdoor lighting solutions, hardscaping design and construction, and much, much more.
At Clearfork, creativity, quality, and attention to detail are at the forefront of every project we undertake. When you trust us with your Southlake lawn, we guarantee you'll be glad you did.
Ready to chat about your landscaping project? Contact us today to get started.
Tree, Plant & Grass Installation in Southlake
Want to install hardy grass that'll thrive year-round? Or perhaps you're looking to upgrade to a beautiful, low-maintenance artificial grass lawn? We can help you select the best type of grass for your needs, design goals, and budget, and our skilled team will install it to perfection.
If you're looking to create maximum visual interest with vibrant flowers, shrubs, and trees, we can help you out with that too. No matter what you're envisioning for your Southlake lawn, our landscaping experts can help you make it a reality!
Ready to create a stunning lawn? Give us a call today or contact us online to discuss your project!
Expert Hardscaping for Southlake Yards
Want to take your beautifully landscaped lawn up a notch? Then stunning hardscaping is exactly what you need. At Clearfork, we specialize in a wide variety of hardscaping design and installation services for Southlake property owners, including:
Walkway and patio design and construction
In addition to our hand-crafted hardscaping services, we also design and install drainage solutions designed to protect your home and help your landscaping thrive. If you're looking to create a lawn that's the envy of your entire block, get in touch with us today to learn more about how we can help!
Clearfork's Commitment to Excellent Customer Service
At Clearfork Lawncare, your total satisfaction is our number one priority. We deeply understand the importance of prompt communication, reliable service, honesty, and transparency, and when you work with our team, that's exactly what you can expect.
Our skilled team has earned an Elite Service Pro Listing on HomeAdvisor, as well as an A+ rating with the Better Business Bureau. If you're ready to transform your Southlake lawn with premium landscaping and lawn care services, make Clearfork your first call! Give us a call today at 817-705-9352 or contact us online with any questions or concerns, and we'll be in touch!