Landscape Design & Construction Services in Haltom City, TX
Top Landscape Designers Near Haltom City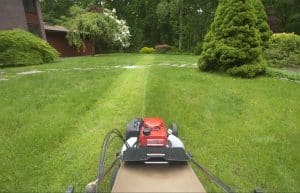 Are you looking for experienced landscape designers in the Haltom City area? Look no further than our team at Clearfork Lawncare! Our expert design and installation teams can take your lawn to new heights with full-service landscaping planning, as well as tree, plant, and grass installation, arbors, pergolas, water features, and much more.
Since 2015, we've proudly served property owners throughout Haltom City and the surrounding Tarrant and East Parker County areas. When you trust us with your landscaping needs, you can count on reliability, honest service, consistent communication, and most importantly, a job well done.
Do you have a landscaping project you'd like to discuss? Contact us today to learn more about what we can do for you!
Tree, Plant & Grass Installation in Haltom City
Need to install turf that thrives in our temperamental Texas environment? We can help you select the best type of turfgrass for your needs and budget. Want to plant strategically placed trees, flowers, and shrubs that'll take the look of your lawn to new heights? We can help you make your vision a reality.
No matter what kind of landscaping you want on your Haltom City property, our expert team can design and install exactly what you're looking for. We also specialize in sprinkler system installation and repair, as well as artificial grass installation and drainage solutions. If you're ready to create the perfect lawn, don't hesitate to call us for all your landscaping needs!
Expert Hardscaping for Haltom City Yards
Whether you love entertaining al fresco or simply love kicking back and relaxing in a beautiful outdoor space, hardscaping can take the look and feel of your property to a whole new level. At Clearfork, we specialize in a variety of hardscaping services for Haltom City properties, including:
Patio and walkway design and installation
No matter what you're envisioning for your lawn, we can work with you to design a beautiful arrangement of hardscaped features that bring your vision to life. We'll customize and construct your chosen features and install them to your exact specifications. And should those features ever require maintenance in the future, give us a call, and we'll help you keep them in tip-top shape!
Clearfork's Commitment to Excellent Customer Service
At Clearfork, we strive to exceed our clients' expectations on every project we undertake. Since our founding in 2015, we've been fully committed to our mission of delivering exceptional customer service and premium-quality workmanship.
We've long maintained an A+ rating with the Better Business Bureau and hold an Elite Service Pro listing on HomeAdvisor. We've also continually received wonderful reviews from our customers, so if you won't settle for anything less than the best, we're the team you need to call!
To learn more about our landscaping and hardscaping services available in Haltom City, give us a call at 817-705-9352 or contact us online for a free quote, and we'll be in touch.